We all know you can't constantly hound your prospective clients with calls, text, and emails asking them if they're ready to buy or sell. So what can you do to fill in the those touch points along the customer lifecycle? My suggestion is to take the 'Jab, Jab, Jab, Right Hook' approach. If you haven't read Gary Vaynerchuk's book 'Jab, Jab, Jab, Right Hook', it's a phrase he takes from a boxing analogy to explain his marketing philosophy. It's a pretty simple concept where you 'jab, jab, jab' your sphere of influence with useful and entertaining content before you go in for the 'right hook' of your sales pitch to land a client.
Yes, everyone wants that knockout punch in their sales strategy that lands them the client. But you need to set them up with 'jabs' (your quality content) to make it happen. So what does 'quality content' look like? From a visual perspective it's genuine moments in your life captured through photos or video. It's your passions, aspirations, ideas, expertise, and experiences that you hold dear. These will look different for each realtor, but from a broader perspective are meant to create the same organic touch points that reiterate your branded message while simultaneously connecting you with your core customers.
So, to help draw some inspiration I've come up with a list of engaging content ideas I have captured over the years that I hope you can use in your 2024 marketing plan…
Travel
Find yourself always on the go? Or maybe just have aspirations of traveling? Don't be afraid to share it. People want to see that you do more than just help buy and sell homes. Share your experiences abroad and locally. Show appreciation for other cultures and the overall experience.
Travel is always aspirational and one of the best way to connect with your audience. Of course you want to capture iconic landmarks, but don't forget the other moments that may have made the trip special. A family owned restaurant, a cute little park off the beaten path, a beautiful sunset/ sunrise on the coastline, a funny tour guide. The list goes on.
Your Local Neighborhoods
No better way to show you're a local expert than highlighting the neighborhoods that surround you and, more importantly, the neighborhoods you want to sell in. I will always recommend getting photographed in and around the neighborhood, but if the budget or time is not there; take a stroll down the street to see what the area has to offer. Capture the parks, architecture, restaurants, museums, what's historically significant, or maybe just that little quirk that is not common knowledge of the area.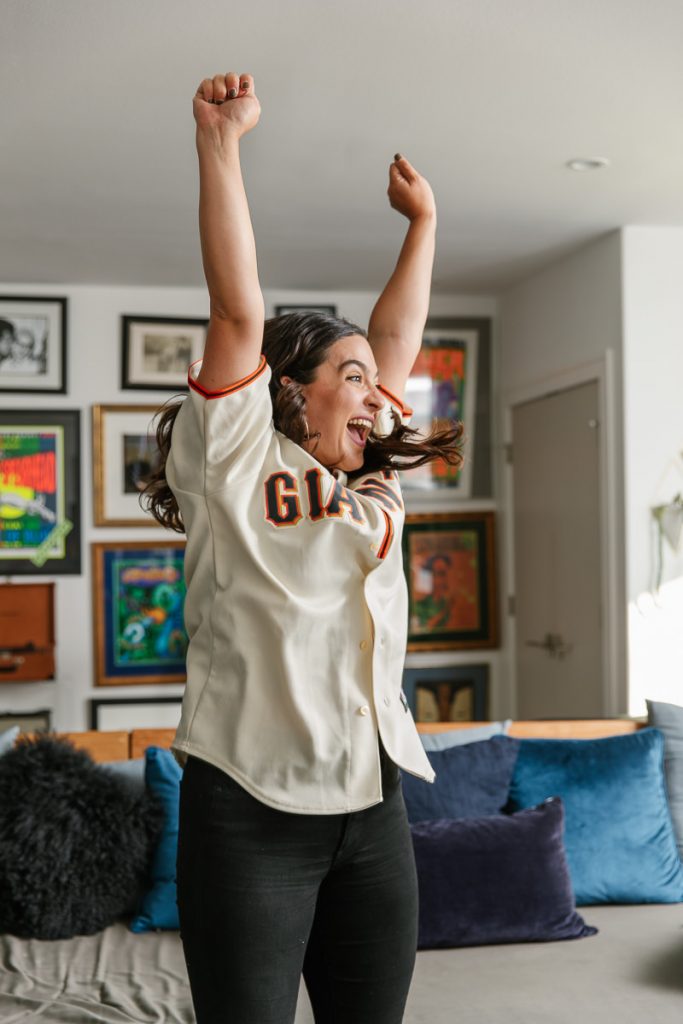 Hobbies
Everything from epic mountain bike trip through the Sierras to just being comfy on couch watching the game can be something to capture. We all have hobbies and interests, so why not share that with the world? You will be surprised who you may be able to connect with. Bianca, in this case, is a die hard Giants fan so we made sure to capture an exciting moment in her jersey to announce the beginning of baseball season or to celebrate a big Giants win.
Area of Expertise
Do you focus on new developments? Fix and flips? Have experience in interior decoration? Work exclusively with first time homebuyers? Relocation clients your thing? Make sure to capture the experience and expertise you have in those areas.
Listings & Broker Tours
Don't have anything coming on the market? No buyers in the pipeline? No worries. Make sure to take your phone with you on your next broker tour or a cool listing you recently seen come on the market. Capture what's unique about the listing and, if you have the time, take some video with the listing agent walking you through the property. Make sure to share/ tag them in the video for a chance to be connected to their sphere of influence.
Family
Connecting through family is always a genuine opportunity to bring your audience into your world. Sharing a major life milestone, celebrating a birthday, or just a moment around the home you all cherish are great things to capture. Above is a great example of a simple moment around the home captured during my branding lifestyle photo shoot with Liza and her family. I noticed this cute swing out in her front and knew immediately we had to capture her children on it.
Landmarks
Whether you capture yourself in front of one or just capture a moment while visiting, landmarks around your region are great call out. You can share a fun fact about it or use the imagery to speak to the fact you are local to the area. 
Food
Some of my most vivid memories are amazing meals I have had both locally as well as abroad. Food is universal language that anyone can appreciate. So if you are out on a special occasion or enjoying your local eatery on casual Friday night, make sure to share a little bit of the experience.
Pets
Who doesn't love some furry friends? If you have pets or grew up with pets, you know they are an extension of our families. So make sure to show them some love and capture the moment. Whether its a cute little moment around the house or big day out on a hike, capture it! Not only is it a great moment to share, but a moment that you will cherish down the road when you look back on it.
Client Gifts
Just help someone find their dream home and you wanted show them a bit of appreciation? Don't forget to take a quick snap of it and be sure to show how it was personalized for them. In this image above Central Coast realtor, Kori Lukasko, loves to give locally made sweets and wine with her name on it to clients after closing. Not only is showing appreciation for her clients, but also ties back to the community with items that are locally made.
Your Clients
This is an easy one, but don't want to forget it. As you close on a home make sure to get a picture with your client. This is an easy way to have your content shared across their circle of influence while simultaneously showing some appreciation for their business.
What content have you noticed helps you connect with your clients and circle of influence? Comment below!